Everyone wants to shop local and support Canadian businesses. This year it seems even more important. However with Scuba diving that can be tricky as there are not many Canadian brands or manufacturers. One excellent Canadian brand is Shearwater Research. Started in the Vancouver area of British Columbia in 2004 Shearwater designs, manufactures and markets their computers from Richmond BC. Made by and tested by divers in Canada. Originally specialized in technical dive computers they have recently branched out to recreational sport diving computers. The most recent model is the Peregrine.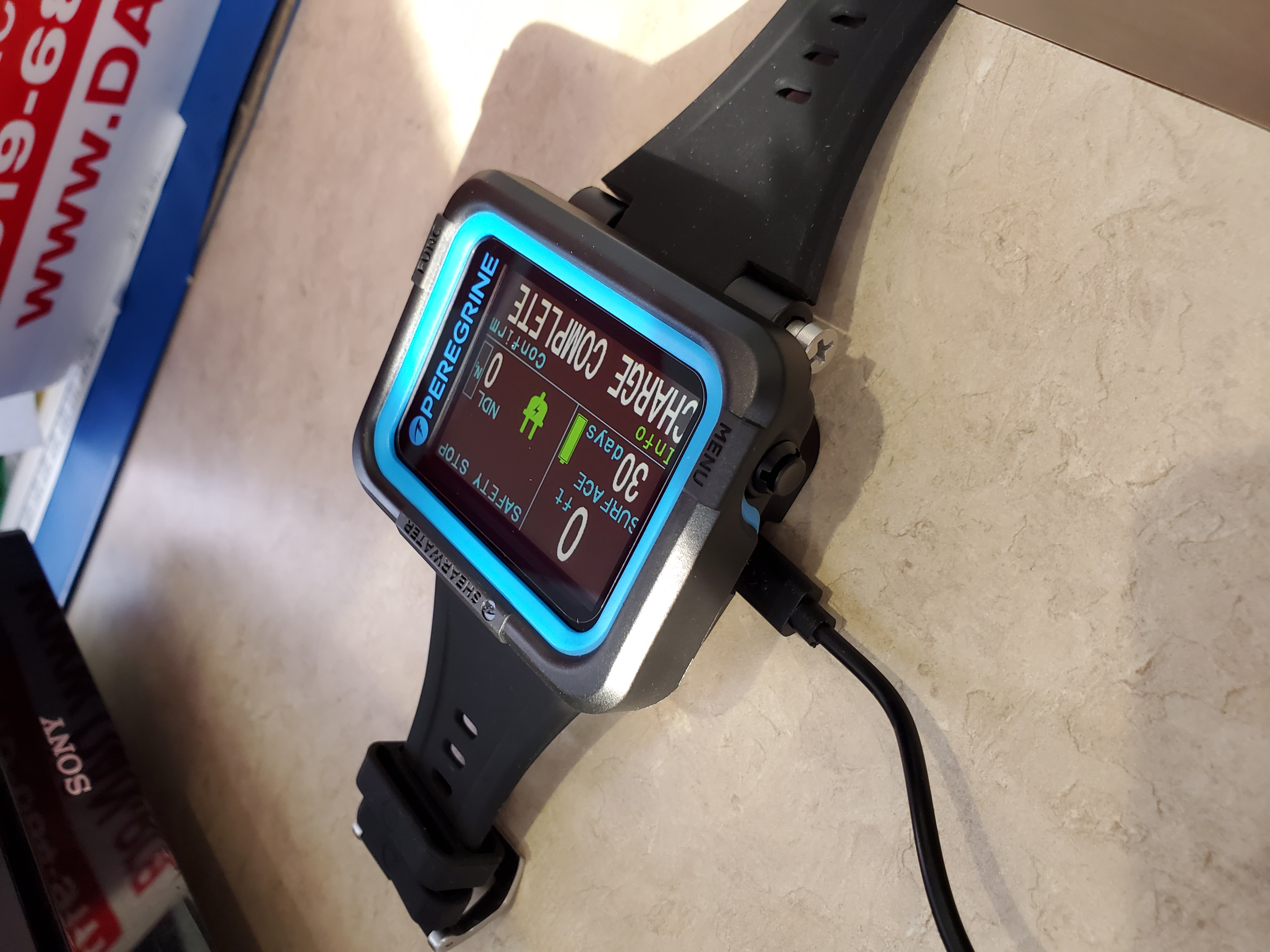 Designed with Shearwater's popular color LED screen and easy to navigate display this computer is one of the best recreational dive computers with an entry level price tag. Like most dive computers on the market now it has all the features you expect like nitrox capable, dive planning and dive log but there is also so much more. It's not just good for nitrox but is capable of 3 mixes up to 100% switchable underwater. The log doesn't just show the last dozen dives but gives you the last 200 hours including all dive details and your depth profile. The dive planning is quick and easy to use and has the option for decompression planning.
What I love about this computer:
The screen size is 2.2" in size making it easy to read
The display is a bright color LCD, meaning you can read it in bright or dark conditions. In fact my buddy can read my computer from several feet away while we are diving.
Re-chargeable battery. The unit is completely sealed and recharges by placing the computer on the wireless charger. No opening the casing and no chance of flooding. The battery is pretty long lasting too, only needing charging every 15-20 dives or so(depending on use)
Easy navigation through the menu both above water and below. The buttons are easy to use with thick gloves too.
The software is user friendly and modifiable. Adjustable conservation factor and user changeable screen display.
Bluetooth connectivity allows for easy upload of dive log to your phone, tablet or laptop plus you can download any firmware updates as they are available
The computer comes with 2 strap options: silicone watch style strap long enough to fit over a dry suit or big gloves and shock cord also easy for use with thick suits and gloves.
What I don't love about this computer:
no air integration option. This is not a deal breaker for many divers but it is nice to be able to add one day. If this is more important to you Shearwater's Perdix AI and Teric dive computer do have the Air integration.
no built in compass. I still like my old fashion compass but I also like having back ups and would use the electronic compass option if I had it.
The size is not an issue for me but I could see some smaller divers may find it a bit big if you have tiny wrists and are not wearing it over wetsuit.
I have seen a lot of new dive computers over the years and so many are really just the same computer with a different color strap or just a small feature change. The Shearwater computers though are significantly improved. You can tell right away that it was designed by people who actually scuba dive and use that knowledge to make your dives better.
Check out the Peregrine dive computer.
Recent Posts
Everyone wants to shop local and support Canadian businesses. This year it seems even more important …

Your scuba or snorkel mask is one of the most important pieces of equipment you will need to enjoy t …

Depending on where you are in Canada, your local dive season could be as short as a few months. If y …